This section contains 682 words
(approx. 3 pages at 300 words per page)
"Dust Bowl" is a term coined by a reporter for the Washington (D.C.) Evening Star to describe the effects of severe wind erosion in the Great Plains during the 1930s, caused by severe drought and lack of conservation practices.
For a time after World War I, agriculture prospered in the Great Plains. Land was rather indiscriminantly plowed and planted with cereals and row crops. In the 1930s, the total cultivated land in the United States increased, reaching 530 million acres (215 million ha), its highest level ever. Cereal crops, especially wheat, were most prevalent in the Great Plains. Summer fallow (cultivating the land, but only planting every other season) was practiced on much of the land. Moisture, stored in the soil during the fallow (uncropped) period, was used by the crop the following year.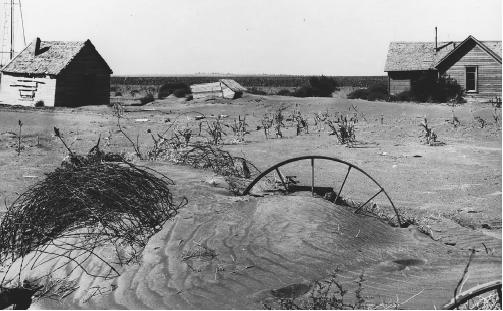 In a...
This section contains 682 words
(approx. 3 pages at 300 words per page)