This section contains 128 words
(approx. 1 page at 300 words per page)
Taiga is a generic term for a type of conifer-dominated boreal forest found in northern environments. The word was first used to describe dense forests of spruce (especially Picea abies) in northern Russia. It has been extended to refer to boreal forests of similar structure in North America but dominated by other conifer species (especially Picea mariana and Picea glauca). Broad-leafed tree species are uncommon in taiga, although species of poplar (Populus spp.) and birch (Betula spp.) are present. Taiga environments are characterized by cool and short growing seasons. Plant roots can only exploit a superficial layer of seasonally thawed ground, the active layer, situated above permanently frozen substrate, or permafrost.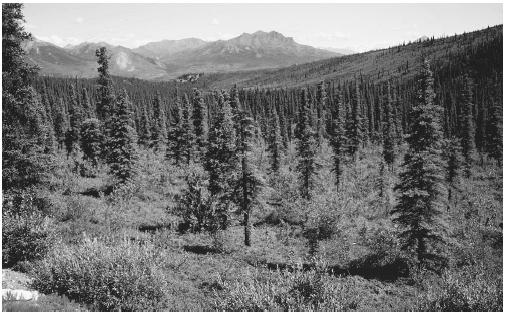 This section contains 128 words
(approx. 1 page at 300 words per page)