This section contains 117 words
(approx. 1 page at 300 words per page)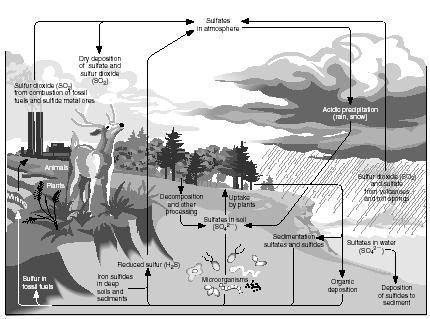 The series of chemical reactions by which sulfur moves through the earth's atmosphere, hydrosphere, lithosphere, and biosphere. Sulfur enters the atmosphere naturally from volcanoes and hot springs and through the anaerobic decay of organisms. It exists in the atmosphere primarily as hydrogen sulfide and sulfur dioxide. After conversion to sulfates in the air, sulfur is carried to the earth's surface by precipitation. There it is incorporated into plants and animals who return sulfur to the earth's crust when they die. Through their use of fossil fuels, humans have a large effect on the sulfur cycle, approximately tripling the amount of the element returned to the atmosphere.
This section contains 117 words
(approx. 1 page at 300 words per page)