This section contains 2,024 words
(approx. 7 pages at 300 words per page)
Critical Review by Penelope Fitzgerald
SOURCE: "Ninjo," in London Review of Books, Vol. 15, No. 2, January 28, 1993, p. 20.
An English novelist, biographer, and critic, Fitzgerald is the author of several novels, including The Golden Child (1977), Offshore (1979), and Innocence (1986). She is known for combining a humanistic approach and a compressed, witty narrative style in her fiction to reveal the strength and nobility of her characters as they cope with life in contemporary society. In the following review, she contends that the pieces included in Kitchen emphasize the theme of coping with loss.
Banana Yoshimoto contributes a respectful preface to her book [Kitchen], dedicating it to her publisher, and thanking the manager of the restaurant where she supported herself while she was writing it and the professors who voted her a prize—'it made me so very happy.' This dutifulness sounds traditional. Traditional, too, when you get to the novellas themselves, are the violent emotions restrained within cramped but manageable limits and the compelling need for analogy between the human predicament and the natural world. 'I understood it from the colour of the sky, the shape of the moon, the blackness of the night sky under which we passed.' 'The sky outside was a dull gray. Waves of clouds were being pushed around by the wind with amazing force. In this world there is no place for sadness.' 'The scratching of our pens mingled with the sound of raindrops beginning to fall in the transparent stillness of evening.'
But at the same time the two novellas in Kitchen are the work of an original, a truly determined individual. 'For a very long time,' Yoshimoto says, 'there was something I wanted to say in a novel, and I wanted, no matter what it took, to continue writing until I got the saying of it out of my system. This book is what resulted from that history of persistence.' When it first came out in Japan five years ago (the publishers tell us) the country was swept by Bananamania and Kitchen spent a year on the best-seller list. They also suggest that it recalls the early Marguerite Duras. This I don't quite see, although both writers are concerned with the formidable barriers of loneliness. Loneliness for Duras, however, is a personal disability which leaves her characters not communicating, but talking endlessly to themselves. For Yoshimoto, to feel lonely is to share the universal sense of mortality. 'Someday, without fail, everyone will disappear, scattered into the blackness of time,' she writes. 'The space that cannot be filled, no matter how cheerfully a child and an old person are living together—the deathly silence that panting in a corner of the room, pushes its way in like a shudder. I felt it very early, although no one told me about it.'
Mikage Sakurai, who tells her own story in Kitchen, is in fact left alone, when her grandmother dies, in their Tokyo apartment. She quits college to train as a catering instructress, and from this point of view can manage her life well enough, but feels she 'was tied by blood to no creature in this world'. Enter, with a ring on the doorbell, an unexpected saviour, Yuichi Tanabe, a college boy a year younger than herself. He works in the evenings at the shop where Mikage's grandmother had often bought flowers; he had adored the old lady, and now invites Mikage to come and live for as long as she wants to in his own home. The delicate relationship between the two, which never quite defines itself, is described, day by day, with a kind of touching persistence, as though the narrator's life depended on the reader understanding it exactly. Meanwhile the translation, with what accuracy I can't tell, alternates rather bewilderingly between the (more or less) contemporary and the magical. 'It sounds like I was possessed. His attitude was so totally "cool", though, I felt I could trust him. In the bleak gloom before my eyes (as it always is in cases of bewitchment), I saw a straight road leading from me to him. He seemed to glow with white light.'
Although she is anxious to govern her life by free will and choice, Mikage accepts his invitation almost without giving it thought. Yuichi, however, does not live alone, but with his mother, a dazzlingly beautiful woman, too strikingly dressed for any ordinary daytime job. She works, it turns out, in a nightclub, and, as Yuichi tells Mikage with barely concealed amusement, she is really his father. 'After my real mother died, Eriko quit her job, gathered me up, and asked herself: "What do I want to do now?'" What 'she' decided was to 'become a woman'. With the help of a plastic surgeon she had 'everything done' with singular success, and with the money left over from the surgery she bought the nightclub. Here then is willpower in action. Eriko is presented as having true greatness, with the physical attraction of greatness. Whatever Mikage feels, or doesn't feel, about Yuichi, she is certainly in love with Eriko. Both of them lie awake in anxiety until they hear the sound of humming and the click of high-heeled shoes as she comes back, sometimes drunk, in the small hours. But Eriko is murdered, stabbed by one of the club's unbalanced customers who fancied her as a woman. She manages, before she dies, to beat this man to death with the bar-bell. 'That makes us even.' Yuichi is proud that his mother (or father) died fighting. If the Tokyo police make any sort of enquiry, we don't hear about it. Violence, for this novelist, is not significant either socially or morally. Like everything else, it is a matter for the emotions. Both Yuichi and Mikage, left without their protector, experience a sickness to the depth of the soul, and the rest of their story is concerned with the ordeal of rehabilitation.
When Mikage first comes to live in the Tanabe household, she sleeps on an outsize sofa ('a dog too big to keep in Japan could stretch out across it sideways') next door to the kitchen. This kitchen is not the traditional 'Japanese room' of the apartment—that is kept for the TV. On the contrary, it has fluorescent lighting, a Silverstone frying pan and a German-made vegetable peeler, while in the fitted cupboards 'all kinds of plates silently awaited their turn'. To Mikage all kitchens are of importance. 'A kitchen,' she says, not at all ironically, 'represents some distant longing engraved on my soul.' She would like, when the time comes, to die in one, so that she could feel 'How good'. And from its opening paragraphs this novella proposes food and cooking as a metaphor for love. English readers got used to this device in Dickens—the supreme example is the fowl which Captain Cuttle cooks for Florence Dombey—but not to this strangely obsessive effect. Even in the depths of her grief for her grandmother's death (although she has the feeling that she isn't weeping for one sad thing, but rather for many), Mikage feels soothed by the sound of knives clattering and the voices of people at work the other side of a brightly-lit kitchen window. At the sight of it she implores the gods, after all, to let her live. During her stay at the Tanabes' she teaches herself to cook, driving herself to make her dishes resemble the illustrations in the book, or staring sometimes at a single red tomato, 'loving it for dear life'. When she is left living alone in the apartment with Yuichi, now an orphan like herself, they don't make love, they buy enormous quantities of food from the supermarket and eat for many hours. 'Deep-fried tofu, steamed greens, beanthread with chicken (each of them with various sauces), chicken Kiev, sweet and sour pork, steamed Chinese dumplings …' Much of one's life history, Mikage reflects, is etched on the senses. A nightmare banquet (Yuichi gets very drunk) cannot resolve the situation between them, but she has been right to recognise food's power. She is selected for her job as assistant to an august cookery instructress, in preference to the other candidates, for the singular reason that she lives on the edge, whereas the rest have been taught, 'probably by caring parents, not to exceed the boundaries of happiness'. When Yuichi goes missing and takes refuge in a country inn, Mikage climbs into his room by moonlight to bring him a pork-and-rice katsudon from the take-away. In this way, and in no other, she touches the springs of his grief. The katsudon is excellent, and 'the darkness no longer harbours death.'
"Moonlight Shadow" is the companion [story] to Kitchen. It is set in a provincial university town, so that instead of the skies of Tokyo you look for the soul's reflection at the river and its bridge and the rows of waterside houses 'which hung in a faint mist, as though submerged in an ocean of blue air'. The elements of Kitchen recur—the violent incident which is reported rather than seen directly, the very young protagonists whose emotional life is threatened almost before it has begun, the background of part-time jobs, college classes and tea-houses, the mysterious (and in this case magical) intervention of an odd woman. Hitoshi and Satsuki (still a schoolgirl) are student lovers. 'Children that we were, we hurt each other many times over,' but Yoshimoto effectively shows that for four years this could only be described as true love. They live on op-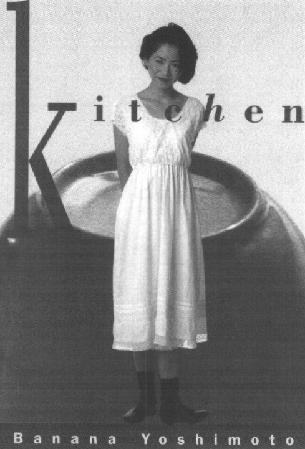 posite sides of the river; the bridge is their meeting-place. Hitoshi has a younger brother, Hiiragi, who is regarded as eccentric. He, too, has a girlfriend, Yumiko. The four of them are often together. One night, when Hitoshi is giving Yumiko a lift home, both of them are killed in an accident on the bridge. As she does in
Kitchen,
Yoshimoto shows a brilliant, delicate discernment between the stages of the agonies of loss. These begin 'without a prospect in sight. Day after day went by, like losing one's mind bit by bit.' Satsuki feels that, at 20, she is undergoing one of the things it is 'better not to have to experience in a lifetime—abortion, prostitution, major illness'. (War is not mentioned. Yoshimoto was born in 1964.)
Satsuki's resource, rather than lying awake waiting for the sky to grow light, is an early-morning run. The Japanese national uniform is now a two-piece sweat suit, and she buys one, and a container for hot tea. Her run always takes her to the bridge, the fatal spot of the accident, but also, at the dawn hour, the most beautiful place in the city. Here, one morning out of so many which seem alike, she is 'spoken to' by a stranger asking to share her tea, a woman whose age can't be guessed, and who gives her name as Urara. Yoshimoto's technique in this story is less assured (though even more touching) than in Kitchen, and the reader sees through Urara as soon as her eyes are said to be 'knowing and serene'. She is the wise woman, necessary in many a fairy tale to assist chance or fate.
Since the 18-year-old Hiiragi has also lost his lover in the accident, Satsuki feels an affinity with him, and arranges to meet him in the coffee-shop of a department store. 'In he came, wearing a sailor-style girl's uniform, complete with middy blouse and skirt.' Hiiragi's sailor suit, like Eriko's cross-dressing, is unsettling, but the correct reaction is compassion. His classmates, it seems, are understanding, recognising that the suit belonged to his lost sweetheart. Both Satsuki and Hiiragi, then, are the victims of obsession, in need of deliverance from the dead who captivate them. Urara, waiting again by the bridge, tells Satsuki that, for an unexplained moment, the dimensions of time and space are going to shift: 'Got it?' To which Satsuki can only reply: 'Got it.' What she gets will be the spirit-seeing of the classic ghost story. It doesn't seem out of place. Throughout these two moving novellas Yoshimoto has concentrated less on crowded contemporary Japan than on ninjo, the impulses of the human heart.
This section contains 2,024 words
(approx. 7 pages at 300 words per page)