This section contains 954 words
(approx. 4 pages at 300 words per page)
SOURCE: "Vengeance is Mine, Says the Clown," in The Sunday Times, London, April 24, 1983, p. 42.
So, Twelfth Night (RSC Stratford) is, in fact a revenge play, in which the Clown's resentment of Malvolio provides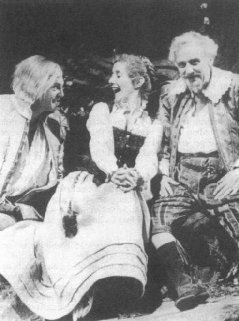 the pivotal theme. Sir Toby Belch is the kind of bluff fellow whose bluffness is a cover for considerable nastiness. When things get out of hand, lives are not merely threatened—they are in real danger. Both the weather and the time of day are hable to change abruptly, just as love may turn to hate or the dead be restored to life, to the terror of their loved ones.
It is a reading which makes a virtue of what is often taken to be merely a worrying appendix to the piece—the unresolved...
This section contains 954 words
(approx. 4 pages at 300 words per page)