This section contains 5,425 words
(approx. 19 pages at 300 words per page)
SOURCE: "Poetic Background,"in A Preface to Spenser, Longman Group, Ltd., 1978, p. 88-130.
In the following excerpt from a study of Spenser's background and work, Shire introduces the literary and poetic context for Spenser's writing.'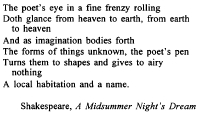 A New Poetry for Elizabeth's England
Certain regions of belief and attitude in Elizabethan times have been explored because they differed from ours today and acquaintance with them would help us to draw near to Spenser's poetry. We are now confronted with that poetryCagain different in so many ways from ours today. We must find out how it works. We need to discern what the poet believed himself to be doing, what he aimed to achieve and by what means, and the reasons why he did so. In this project two things are difficult. First, there are voices enough from the sixteenth century of poet and of theorist, foreign or native, to...
This section contains 5,425 words
(approx. 19 pages at 300 words per page)