This section contains 5,269 words
(approx. 18 pages at 300 words per page)
SOURCE: "1590: The Poem to the Poem," in Praise in "The Faerie Queene," University of Nebraska Press, 1978, pp. 37-57.
In the following excerpt from a study of praise in Spenser's Faerie Queene, Cain presents the poem as a tribute to Queen Elizabeth.
The Muse of "the Faerie Queene"
Ariosto invokes no muse in the Orlando (although the third canto invokes Apollo). But stanzas 2-4 of Spenser's proem invoke the Virgin Muse, Cupid, and the deified queen. Their insistent structural logic appears from the first words of each stanza: "Helpe then, O holy Virgin"; "And thou most dreaded impe"; "And with them eke, O Goddesse." This triple invocation facilitates encomium, for it greatly expands the idea of the poet's inadequacy, suggests the strategy of the hymn, and implies that the subject is three times greater than any attempted before. The muse invoked in stanza 2 particularly fits the encomiastic intention.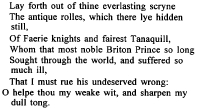 Whether...
This section contains 5,269 words
(approx. 18 pages at 300 words per page)