This section contains 10,761 words
(approx. 36 pages at 300 words per page)
Critical Essay by Richard D. McKirahan, Jr.
SOURCE: Richard D. McKirahan, Jr., "Parmenides and Elea," in Philosophy before Socrates: An Introduction with Texts and Commentary, Hackett Publishing Company, Inc., 1994, pp. 151-78.
In the following excerpt, McKirahan clarifies some of the more difficult passages in Parmenides 's work and answers objections to the poem.
Fragments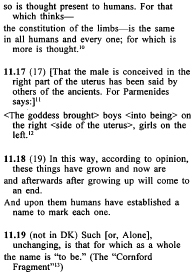 Significance and Life
Parmenides' philosophy marks a turning point in the history of thought. Neither his style of argument nor his astonishing conclusions could be overlooked even by those who strongly disagreed with him. Like Heraclitus, Parmenides pushed the limits of his thinking beyond the range of subjects found in the early Ionian philosophers, though his ideas, like those of Heraclitus, have implications for the entities and cosmic processes which his predecessors proposed. If Heraclitus was the first person to approach things philosophically instead of scientifically, Parmenides deserves recognition...
This section contains 10,761 words
(approx. 36 pages at 300 words per page)