This section contains 4,465 words
(approx. 15 pages at 300 words per page)
SOURCE: "'An Image of Man …' Working Notes on Charles Olson's Concept of Person," in Iowa Review, Vol. 11, No. 4, Fall, 1980, pp. 29-43.
In the following essay, Creeley discusses Olson's concepts of history and identity.
Talking to a gathering of student writers (S.U.N.Y. College at Cortland, N.Y., October 20, 1967) Olson again tried to make clear that he was not involved in some self-aggrandizement and that The Maximus Poems were not therefore a backdrop for himself as quondam hero. He then read "Maximus of Gloucester" (The Maximus Poems, Volume Three)—the date for which he notes as "Friday November 5th/1965":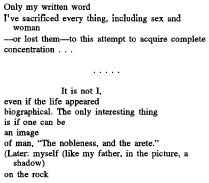 One might expect to hear this plea from two other American poets, who are felt, I think reasonably, to be Olson's predecessors, Ezra Pound and William Carlos Williams. Paradoxically T.S. Eliot, whom Olson uses as a significant antagonist in "ABCs," is not usually presumed to be...
This section contains 4,465 words
(approx. 15 pages at 300 words per page)