This section contains 1,436 words
(approx. 5 pages at 300 words per page)
SOURCE: A review of Tales Of The Mermaid Inn, in The Bookman, June, 1913, pp. 445-48.
In the following review of Tales of the Mermaid Inn, Hooker suggests that the poem is not Elizabethan because it is modern in "form, prosody and style. "
The critical commonplace about Mr. Alfred Noyes's Tales of the Mermaid Tavern is that he portrays the Elizabethan period and the writing, fighting, adventurous London that was then. And this, like many commonplaces, is a halftruth none the worse for winnowing. Certainly, in the sense of representing these spacious times as their own literature presented them, the book is not Elizabethan at all: there is hardly a page in it which could have been written before 1850, or which is not unmistakably dated as modern by form and prosody and style.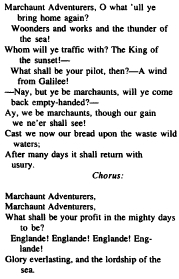 There is no need to argue about it, or even to point out the demonstrative details...
This section contains 1,436 words
(approx. 5 pages at 300 words per page)