This section contains 5,537 words
(approx. 19 pages at 300 words per page)
SOURCE: "Flaubert's Madame Bovary," in Adultery in the Novel: Contract and Transgression, The Johns Hopkins University Press, 1979, pp. 233-367.
In the following excerpt, Tanner links Emma Bovary's vague but persistent mental unease and unhappiness with her male-defined and largely superfluous role in society. He then examines "why Emma's story should start with Charles Bovary 's somewhat inauspicious entry into a schoolroom" and connects this scene with the larger theme of language and meaning in the novel.
]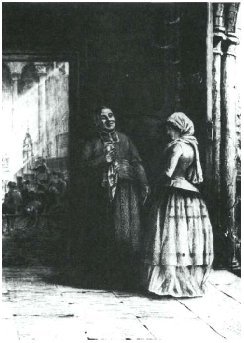 The Fog in Emma Bovary's Head
"Ah yes!" returned Félicité. "You're like old Guérin's daughter, the fisherman at Le Pollet, that I knew at Dieppe before I came to you. She was that wretched, you'd think to see her standing in the doorway there was a funeral pall hung up over the door. It seems she'd got a soft of fog in her head, the...
This section contains 5,537 words
(approx. 19 pages at 300 words per page)