This section contains 467 words
(approx. 2 pages at 300 words per page)
SOURCE: Review of 'Tis Pity She's a Whore, in Financial Times, 8 May 1992, p. 15.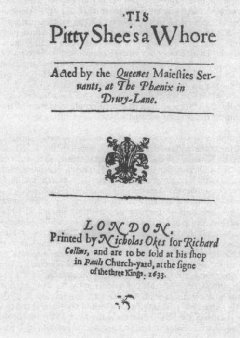 In the review below, Macaulay questions the viability of David Leveaux's interpretation of Giovanni and Annabella's incestuous relationship in his 1992 staging of 'Tis Pity She's a Whore at London's Pit Theatre.
The strange thing about David Leveaux's staging of 'Tis Pity for the Royal Shakespeare Company is that the central brother and sister are played as the least polished people in this Italian society. Even the ninny Bergetto has a certain public-school edge to him. But not so Giovanni and Annabella. Jonathan Cullen, first seen in a coat whose sleeves are too long for him, underplays Giovanni's academic flair and gives him, unlike anybody else, a York-shire accent. He (especially) and Saskia Reeves's Anna-bella have the worst posture onstage.
But all of this adds up to a kind of artlessness in them...
This section contains 467 words
(approx. 2 pages at 300 words per page)