This section contains 13,737 words
(approx. 46 pages at 300 words per page)
SOURCE: Namias, June. "White Men Held Captive." In White Captives: Gender and Ethnicity on the American Frontier, pp. 49-83. Chapel Hill: The University of North Carolina Press, 1993.
In the following excerpt, Namias explores the changing images of males in captivity narratives from 1608 through the nineteenth century.
In the first and most famous captive story of an Englishman on the North American continent, Captain John Smith spent a month among the native people of tidewater Virginia. Admitting to some difficulties, Smith wrote of his experiences: "Yet hee so demeaned himselfe amongst them, as he not only diverted them from surprising the Fort: but procured his owne liberty, and got himself and his company such estimation amongst them, that those Savages admired him as a demi-God."1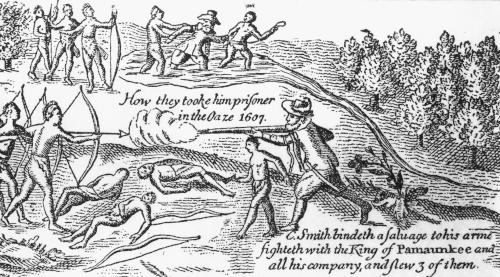 Were men's experiences, behavior, perceptions, and story-telling style on the various American frontiers...
This section contains 13,737 words
(approx. 46 pages at 300 words per page)