This section contains 4,827 words
(approx. 17 pages at 300 words per page)
SOURCE: "Byron's Strange Perversity of Thought," in Modern Language Quarterly, Vol. 33, December, 1972, pp. 405-19.
In this essay, DePorte analyzes Byron's depiction of the struggle for individual freedom in Childe Harold's Pilgrimage, claiming that for Byron the desire for freedom can ultimately result in a form of madness.
Byron's affection for Augustan satire is well known, but Childe Harold is hardly the poem one would turn to for echoes of Swift. Nevertheless, canto 3 contains lines strikingly reminiscent of the "Digression on Madness" [in Swift's Tale of a Tub], where the lunatic is pictured as a man unwilling to "pass his Life in the common Forms" and intent on "subduing Multitudes to his own Power, his Reasons or his Visions," and where it is argued that all conquerors, contrivers of philosophical systems, and founders of new religious sects are thus mad.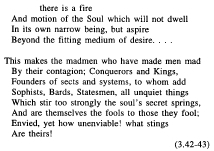 Byron has been reflecting on the fate of the...
This section contains 4,827 words
(approx. 17 pages at 300 words per page)