This section contains 2,204 words
(approx. 8 pages at 300 words per page)
SOURCE: "Explaining the Obvious," in Responses: Prose Pieces, 1953-1976, Harcourt & Company, 1976, pp. 139-45.
Wilbur is an American poet respected for the craftsmanship and elegance of his verse. He employs formal poetic structures and smoothly flowing language as a response to disorder and chaos in modern life. In the following essay, first published in The New York Times Book Review in 1968, Wilbur examines the structure and tone of Burns's poem, "A Red, Red Rose."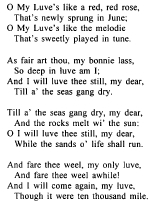 Some months ago a professor friend, who was putting together a textbook on explication, invited me to take a poem of my own choosing and attempt a model commentary on it. I began, of course, by trying to think of something knotty about which to be clever, but the lines from Burns which I have quoted, and which are often in my mind, kept proposing themselves. I am fond of "A Red, Red Rose," and...
This section contains 2,204 words
(approx. 8 pages at 300 words per page)