This section contains 4,784 words
(approx. 16 pages at 300 words per page)
SOURCE: "The Tyger': Genesis & Evolution in the Poetry of William Blake," in Criticism, Vol. IV, No. 1, Winter, 1962, pp. 59-73.
In the following essay, Miner comments on the literary influences on "The Tyger" and the poem's relationship, thematically and symbolically, to Blake's later works.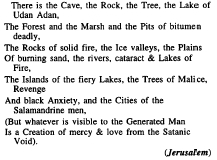 One of the great poetic structures of the eighteenth century is William Blake's "The Tyger," a profound experiment in form and idea. The sibilants and occlusive consonants which permeate the poem and the consistent repetition of diphthongs and vowels give "The Tyger" a singular force. The word "tyger" itself begins with an explosive consonant which is followed by an emphatic vowel and a pseudoonomatopoetic "grrr"; the word uniquely integrates a visual object along with a relevant auricular effect.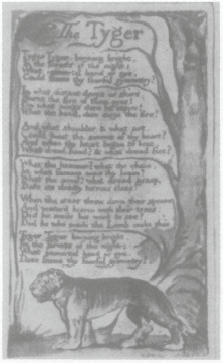 While it is difficult to attribute any specific occasion or literary source to the striking...
This section contains 4,784 words
(approx. 16 pages at 300 words per page)