This section contains 8,315 words
(approx. 28 pages at 300 words per page)
SOURCE: "A Guide to the Intellectual Symbolism of William Blake's Later Prophetic Writings," in Criticism, Vol. 1, No. 2, Spring, 1959, pp. 190-210.
In the following essay, Kiralis offers an interpretation of the symbolism in Blake's Jerusalem in order to elucidate this poem as well as other later prophetic writings, such as Milton and The Four Zoas.
For various reasons, some simple, some complex, the later writings of William Blake have remained generally unread since the time they were composed in the early part of the nineteenth century. Vala or The Four Zoas, Milton, and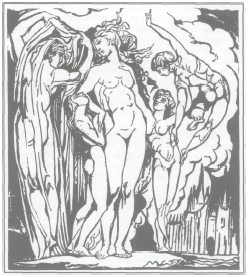 Jerusalem have often been summarily dismissed as having been written by a man not completely in control of his senses, if not actually insane, or they have been disclaimed on the grounds that they so approach chaos that they simply are not worth the necessary effort to decipher. The general academic pattern is...
This section contains 8,315 words
(approx. 28 pages at 300 words per page)