This section contains 556 words
(approx. 2 pages at 300 words per page)
SOURCE: "Over the Edge," in The New Yorker, Vol. XL, No. 7, April 4, 1964, pp. 78-9.
In the following excerpt, Oliver praises the "deadly wit and passionate wild comedy " of "Dutchman, " but felt that the anger expressed by the black character, while justifiable, was ineffective.
LeRoi Jones whose "Dutchman" is the final one-acter of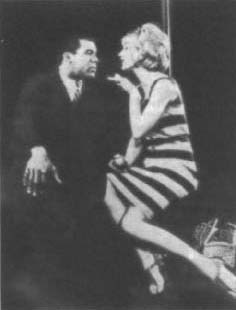 "Three at the Cherry Lane," is an original and talented young dramatist. For about three-quarters of the way, his play has a kind of deadly wit and passionate wild comedy that are his alone, and then, sad to say, he almost literally sends it all up in smoke, under what I feel is the mistaken impression that in order to have point and impact a good story must be given general and even symbolic implications. Himself a Negro, Mr...
This section contains 556 words
(approx. 2 pages at 300 words per page)