This section contains 2,855 words
(approx. 10 pages at 300 words per page)
SOURCE: "The Corrupted Warrior Heroes: Amiri Baraka's 'The Toilet,'" in Modern Drama, Vol. XVII, No. 2, June, 1974, pp. 207-15.
Below, Tener claims that "The Toilet" explores the negative affects of white society on the maturing process of black boys.
At the time mat Baraka was composing "The Toilet," most blacks did not have black heroes to emulate in shaping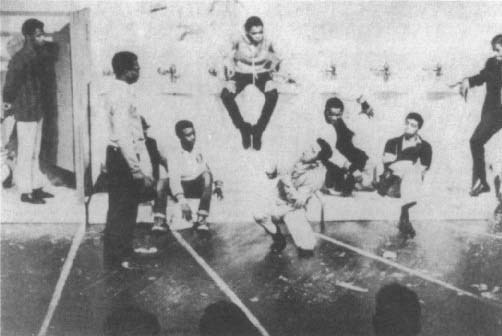 their psyches. They had primarily white mythic or historical or athletic or artistic models. But the feeling was abroad that the white culture was dying and that the dependency on white models could only destroy the black identity. James Baldwin had pointed out in
The Fire Next Time
that "white people cannot, in the generality, be taken as models of how to live. Rather, the white man is himself in sore need of new standards, which will release him from his confusion and place...
This section contains 2,855 words
(approx. 10 pages at 300 words per page)